Gym Pass Guide
From Aero Wiki
What is a Gym Pass ?
"A Gym Pass basically enables you to be gain access in a gym'. Need more weight? not satisfied with your berries? this is what you looking for! A membership card at a training facility that helps you increase your strength. This card will grant you a one time access to training, just show it to the trainer NPC. "
"People aren't as physically active as they used to be. Even if you fight for a living, your body is weak and flabby in some areas. Train with me and I can guarantee that you'll be able to live or carry more of your stuff -Ripped Cabus"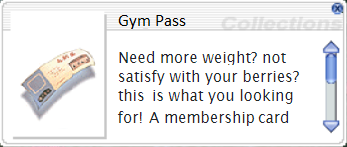 Item Description
Effect: Increase your skill level by 1 boosting your weight capacity by 200 per level, To a maximum of level 10. Increase Carrying Weight skill has 10 levels, and once learned, It is permanent. However, it is reset once you transcend. You can level this one at a time.
Server Availability: Mayaan and Turbo Server
How to obtain this item
This can be obtained by item purchase at the aeRO Shop or through purchase from other players in-game. Note that a level 10 Gym pass will cost 20 DCP.
How to use this item
Talk to NPC Ripped Cabus located at Payon Town(payon) 173, 141 and try to talk to him, tell him you want to train with him.
One Gym Pass is equivalent to one level or +200 added weight. Bring 10 Gym Pass to NPC Ripped Cabus and obtain a maximum of level 10 or 2000 additional weight.
How to view the effect
You can check or monitor your current weight and also the added weight from the Gym Pass in the Basic Info.